Next week, the Managing directors of Aquavision are flying out to Australia for 3 weeks of meetings and networking events, including VIP tickets to the prestigious Melbourne Cup, to assess Potential Distributors.
Although currently still a work in progress, here you can see a 42″ Horizon Outdoor Television, beautifully recessed into the wall in one of the many luxury seating areas at Flemington Race Course. For more information on our Outdoor Television range, please click here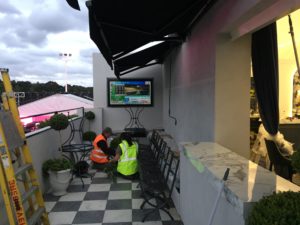 Make sure you follow us on Social Media platforms to keep up to date with Aquavision's latest news and events!