Last weekend, Jack Burgess took part in his first MSUK race at Whilton Mill and entered the FASTR 2023 WMKC as a Novice. We continue to sponsor and support Jack and we are extremely proud of his achievements as he climbs the ranks with his passion for cars and racing.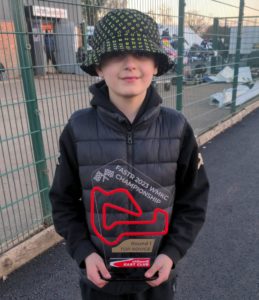 Gemma, Jack's mum, said, "Going into the race as a Novice to MSUK must have been very scary. He was on a grid with some of the biggest names in Karting and he didn't let this phase him once. In fact, I think it made him more determined to prove a point that he deserved to be there."
With the results, Gemma added, "Saturday went well with his driving and timings, but unfortunately he got a drop down penalty in qualifying and Heat 1. Sunday was unreal – we had Heat 2 and a Final. He made up 7 places in Heat 2 and in the Final he came in 12th. He also came in as Top Novice! This was out of 34 drivers – most of which are from the biggest teams in the country. To say he is happy is an understatement. He now has that fire in his belly to get higher next time. He really wants a top 10."
We are inspired by Jack's dedication to the sport and admire his focus and determination to succeed. We look forward to seeing the new trophy and wish Jack lots of luck in his next race.