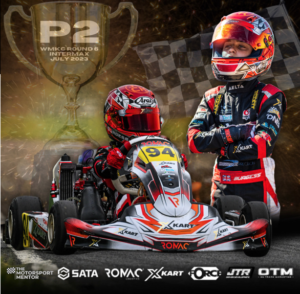 Last weekend Jack and his Xkart team were competing at Whilton Mill Kart Club. With his engine on point and his unreal race craft, he has risen to 3rd in the Championship.  Jack has been working with James Taylor as his driver coach which has made a huge difference.
Here is what Jack had to say about the weekend:
"Friday and Saturday brought a whole lot of ups and downs. The weather changes were horrendous, so getting the set up right was a task.  On Saturday I qualified 16th due to me catching my spark plug cap with my elbow which ended my session.  It wasn't great but I managed to get it back on so I could head back to the parc ferme.   On Sunday I was determined to pull it back, so head down and off I went making my way up to 5th in both heats. The kart felt unreal, and I had the power behind me to make up positions. I am absolutely over the moon with the result of the final; I started in P4 which is my favourite position to start, my friend Fin and I had some amazing but respectful battles on track. I ended up coming home with a P2 which is the highest I have finished at Whilton Mill" 👌🏆
He went on to say it was "A result that made my Mum and Dad cry tears of Joy."
Jack's parents are thrilled and so are we. The determination and drive Jack shows with his karting is something to admire.
His parents, Gemma and Ian have said, "James Taylor his driving coach has made a huge difference and he is worth his weight in gold. Jack has now moved up to 3rd in the Championship which is absolutely amazing, the team cannot believe it. We were told at the beginning of the season not to expect podiums or even top 10 finishes due to the calibre of the drivers, but boy has he proved them wrong!"
We will be at one of your races this season Jack, we can't wait to see you racing.
Keep going, you've got this!