A little bit of History
In 1997 the first flat screen television was introduced.
Even though it was the same picture size, it was less than two thirds the weight of the conventional tube television.  From that point on as the flat screen gained popularity the resolutions improved, the sizes increased and the demand for slimmer televisions kept growing. Why is that?  Cultural anthropology reveals our inert nature to continue to improve the designs of our living spaces and enhance lifestyles.  At Aquavision we have always believed televisions should be built in the wall to blend into the home décor.  We introduced the first in-wall television in 1997 and, since it has remained the most pervasive technology in the home, we believe it deserves its pride of place. Despite changing viewing habits due to the technological media revolution, in-wall television viewing is on the rise!
Knowing television is 'hard-wired' into 21st century culture, this spurred us on to pioneer a number of "world's first" products.
We are proud innovators of waterproof televisions and remain the only company to manufacture an expansive range of high performance in wall televisions from 16" – 100".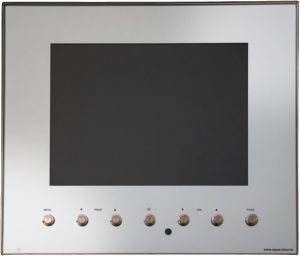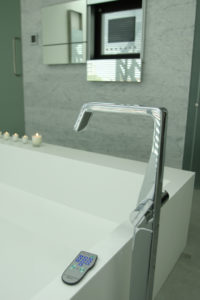 The television that started it all: the first in-wall television
Aquavision's history
1997 – 2000
– Alastair Benn created the first waterproof television for the bathroom
– UK prototypes were being converted into production units
– Bathroom televisions introduced to various hotel chains. Available in 6.4″ and as a "monitor" only
– The first order for hotels came from Fullers breqery for nw hotels in Bristol and London as we enter a new millennium
2001 – 2004
– More than 300 Aquavision products being installed in hotels
 – Bathroom television launched into the Custom Install and Bathroom retail market. Launched as a 15" fully functioning television. Aquavision TV debut Featured on "Better Homes" TV program with Carol Vorderman
– Range expanded into a 17" widescreen television and later a 23" widescreen. "Classic" bezel was introduced. New model featured the all new HDMI socket
– Range expanded to include World's first 32" and 40" screens with new digital tuners
2005 – 2008
– Series 4 launched. All models were available with digital receivers. World's first bathroom television with full RS232 control
–Range was changed to being all widescreen televisions. First "high-brightness" waterproof TV created as a 46" HD Ready
– Frameless range launched with 17" and 24" screen sizes
– First 17" & 23" television upgrades introduced compatible with existing fixings
2009 – 2012
– All panels were changed to LED back light
– Depths of all our televisions reduced to class leading 2" for smaller screens & 2.5" for larger screens
– Aquavision Distribution was launched as the UK's exclusive factory for the manufacture and distribution of bespoke, waterproof and in-wall televisions
– Genesis, Nexus and Pinnacle television platforms launched. World's first waterproof smart TV with full android integration. Silhouette surface mount option released. World's first HDBaseT television launched
2013 – 2017
– Connect Active, the world's first HDBaseT television to be powered over a single CAT5 cable was launched by Aquavision
– Aquavision Launch world's first 4K waterproof television range
– Aquavision launch professional audio system for the domestic market. Launch world's largest 85" 4K waterproof and in-wall television
– Aquavision launches their first outdoor, self-regulating, waterproof, HD/FHD television on the market, the Horizon Outdoor TV. 

Aquavision's history is extremely vast and we take pride in knowing we were the first to the market in every big mile-stone we've completed. We look forward to what the future holds for Aquavision and know that as the digital technology rapidly increases, so will Aquavision's. We hope you will be a part of the evolution.